It's week 4 of the BusiChic Black Dress Project and I'm looking to Audrey Hepburn for some sun-smart chic as I accessorise my Bento Ruby Little Black Dress (LBD) with a hat kindly loaned to me by American Rag.
Those of you who have been BusiChics for sometime now, will know that one morning last year I had Breakfast at Tiffany's – the relaunched flagship Melbourne store.
There I photographed the hat-i-licious Alison Waters of Hat Matters. Alison was resplendant in a feathered hat that paid perfect tribute to Audrey Hepburn's iconic role as Holly Golightly which she called "the jazziest of my carrier" and one that has had fashionistas in a tizzy ever since.
Screengrabs from Breakfast at Tiffany's
The Givenchy black dresses that Audrey wore in the film set the benchmark in timeless dressing and is referenced in just about every self-respecting piece on the subject of LBDs. I found myself thinking "What Would a Modern-Day Office-bound Audrey Do?" when I planned the 52 ways I wished to style my Bento LBD for the workplace.  So over the course of the year, there will be various Audrey-tribute stylings of the dress. In this installment of the BusiChic Black Dress Project (#LBDproject for those of you following on Twitter), the accessory I've chosen to focus on is the hat. Considering the state of our ozone layer, it is something that we really should be doing more of for our own good.
However, how can we wear hats to work and in a BusiChic fashion? I think so and that the key is to find a style that suits you and keep things simple. As such, inspired by Alison and Audrey, I've paired this week's black dress with a vintage hat.
A broad brim hat is a stylish shield from the sun in this to-office LBD ensemble.
hat and bag American Rag LBD Bento Ruby Dress shoes Naturalizer – remember to check your sound is down if you're going to open this last link in the office, it has a rather loud autoplay clip.
Can I just remark how rather charming it is to have a hat perched on your desk? I remove it once I get to my desk and I've found that prepping my hair with volumnising sea salt spray (I use David Babaii for WildAid Bohemiam Beach Spray) after I've washed my hair in the morning is the trick to help me avoid having the dreaded hat-hair.
Close-ups of the accessories I used to style my LBD tribute to Breakfast at Tiffany's both  à la Audrey and in Melbourne: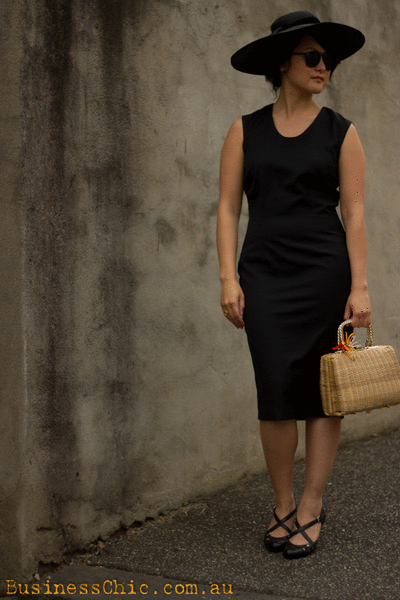 In my researching Audrey Hepburn, I came across this quote below that I thought was appropriate to share with modern professionals.
I probably hold the distinction of being one movie star who, by all laws of logic, should never have made it. At each stage of my career, I lacked the experience.

I was asked to act when I couldn't act. I was asked to sing 'Funny Face' when I couldn't sing, and dance with Fred Astaire when I couldn't dance – and do all kinds of things I wasn't prepared for. Then I tried like mad to cope with it.

~

Audrey Hepburn
I think it's applicable to each and everyone of us who seeks or is faced with stretch opportunities. Sure you might doubt yourself but dig deep, do your best and most importantly, make that opportunity your own. That's what I've taken away from the quote, what do you think?
Are you inspired by Audrey's example to pair your workwear with a hat? Check out the BusiChic hat overview , tell us how you'd wear a hat to work or simply share your thoughts on Audrey Hepburn's legacy as a fashion icon!