Happy Valentine's Day, BusiChic!
If you're feeling sceptical about my salutation then please, read on. First off some context: I get as excited about Valentine's Day as the old Scrooge did about Christmas. Then I was asked me to take some photos of a guerilla H-art campaign that sees volunteers handing out origami hearts to busy people in the city to get the word out about the Sustainable Living Festival on from February 11-26th with the BIG weekend running from the 17-19th!
I love origami and I love a good guerilla campaign so I obliged, thinking that I'd be able to capture some nice images to share with you on Valentine's Day – so here we go: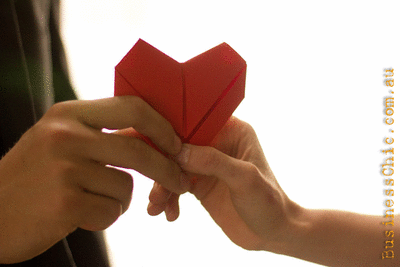 Truth be told that the first image was a mistake, however I now think that it has the perfect amount of corny to open this post. You see, I was one of those who perceived Valentine's Day as corny. Maybe I'm closed to love like some busy people are closed to those people who stand on the street handing out pamphlets. I'm sure you've seen them. Either it's a not-for-profit asking you to commit to regular donations, a gym offering YOU a free session or some other thing that you're not going to be interested or have time for. As such when you spot a pamphlet-hand-outter-er, you immediately look away to avoid eye contact and try to walk on un-noticed.
I see that look all the time. The avoidance of eye contact. I see it when I try to approach people to compliment them and ask to photograph them for BusinessChic. I saw it when I followed Liz from the Sustainable Living Festival as she handed out H-arts at a train station in Melbourne's CBD. I decided to not photograph the cement-faces or the rejections – there were some who refused to let their guard down. Instead I chose to photograph those who accepted a H-art and whose faces lit up when they realised that they had been given a paper love-heart.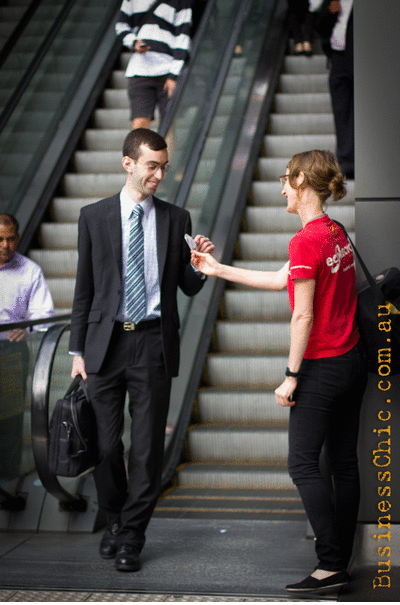 So the moral of this story is, I now think that Valentine's Day can be a good thing if it reminds people to for one day; not be closed to your fellow human being on the street and open your hearts, darn it!

Many thanks to Luke for obliging us for the above photos when Liz and I skipped over with our funny request.
Check out the Sustainable Living Festival for more of my photos from my morning following the H-art campaign!
Oh and BusiChic? Happy Valentine's Day 😉