Penthouse Mouse (PHM) is one of my favourite events on during the L'Oreal Melbourne Fashion Festival (LMFF). Held this year in Fitzroy in an empty warehouse, the space was home to exciting emerging and independent fashion and accessory designers and artist installations.
Many many thanks to my dear friend, Meagan Harding, for use of her beautiful images that capture the PHM vibe perfectly.
Photographed with Irish Riviera of Stylezilla, Chris of Fashion Muuse, Jennie of Look It's Jennie and James Banham of Ravishing Retail.

This is what I look like after a long day at work, check out the indefatigable Diba Nikanpour whom I photographed at last year's LMFF here! Major props to you Diba, it's always such a pleasure to work with you! x

Last night, the runway shows were held where each of the participating fashion designers had the opportunity to showcase their work on some very well-selected models. Here is my round up of some of the work appropriate ensembles I spotted on the runway:
Kings of Carnaby also do women's clothing and I much liked this classic coat with clever contrasting fabric insert in the back.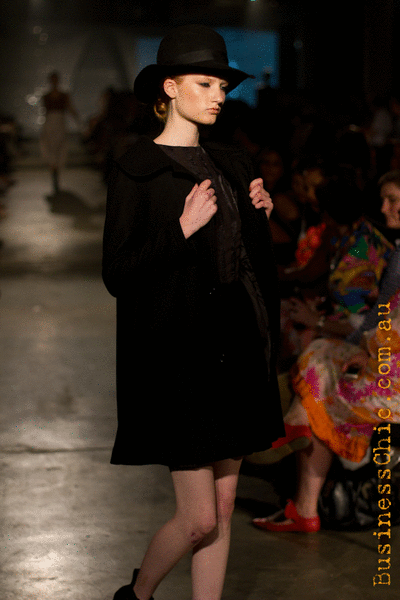 Upper Left Arm
Look beyond the banana smiles for some clever knits that could be incorporated into Creative and Smart Casual work ensembles alike.

Want to see more of what our emerging and independent designers are offering? Check out the rest of my photos from the Penthouse Mouse Mid-Mouse Runway 1, here.