The L'Oreal Melbourne Fashion Festival (LMFF) Cultural program is well underway which means that I've been getting to see a lot more of my fashionable friends.
Lara McPherson is one such lady and with whom I feel lucky to get to collaborate with from time to time. Lara contributed an article to the Spirit of the Black Dress magazine. Spirit itself is a fabulous event that showcases the timelessness of a black dress that's made with sustainable practice and lifestyle in mind.
What does a sustainable fashion writer wear to an event that features her work?
Lara wears a frock that she has borrowed from her Mum. Nice dress, Mum!
Lara is also hosting the Clothing Exchange event on Monday March 12. Fabulous folks getting together to swap clothes – I can't wait!
Samantha Hardman of Bento (who made the dress that I'm using for the BusinessChic Little Black Dress Project) had an entry in the event and it was so wonderful to get to see it; more on that soon!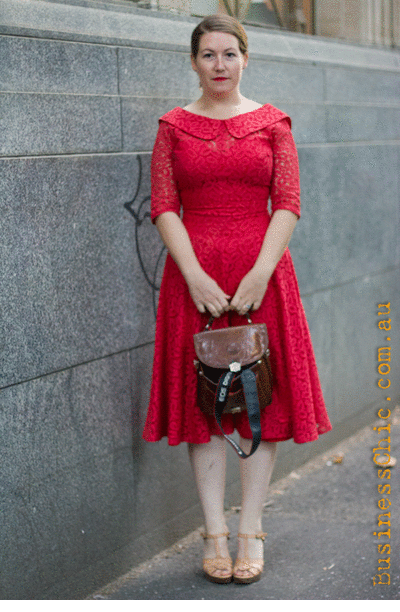 My friend Lara Mac, is a kick-arse woman.
want more of my kick-arse friends!? Links you may like to check out now, BusiChic:
For more details on the evening, check out this article by PardiPardi.
The Clothing Exchange – a giant store where everything is free! < Lara's event that's on next Monday! Projects that Lara and I collaborate on? Well you simply must take a gander at the Melbourne Tweed Ride.
I'll have more coming up on Sam but in the meantime, check out ThisIsBento
Spirit of the Black Dress is a LMFF cultural program event.