It's Week 10 of the BusiChic Little Black Dress (LBD) Project where  I'm wearing one Little Black Dress (LBD) to work, once a week for the whole year to show you 52 different ways of styling a black dress for the workplace! In this installment, I re-style a piece from Georgia McCorkill's The Front Row initiative and pop in for Breakfast at Tiffany's!
LMFF National Designer Award Announcement at Tiffany & Co
This prestigious award is valued at $75,000 and includes a cash prize PLUS business mentorship from KPMG, a pop-up shop at Westfields and a trophy custom-made by Tiffany & Co. This year as in previous years, the finalists were extremely strong and included: Lui Hon, Magdalena Velevska, above. , Michael Lo Sordo and Christopher Esber. An impressive line up such that as The Vine editor, @AlyxG tweeted, this year it could've been anyone's.
Have a look at the ensembles which are on display at the Tiffany & Co store at the New York end of Collins Street for the duration of LMFF.
Follow me on Instagram for all my snappy updates!
The Front Row
After Tiffany's I paid a visit to Georgia McCorkill to show her how I'd styled her Front Row piece with my Bento frock.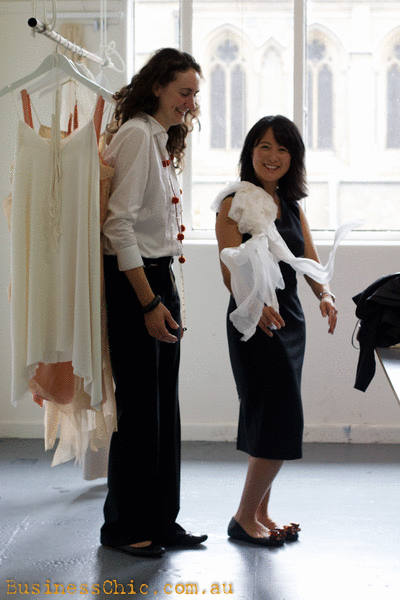 And that wraps up this LMFF edition of the BusiChic LBD Project!
Want to know more about the project? Then read this introductory piece. Otherwise I look forward to hearing what you think about this post, breakfast at Tiffany's and our design talent waiting for you at Tiffany's to check them out!