It's Week 13 of the BusiChic Little Black Dress (LBD) Project where I'm wearing a LBD to work once a week for the whole year to share 52 different ways of styling this staple for the office. This week, I'm showing how a statement necklace can bling up your LBD.
A warm spell of weather meant that this week I was able to style my LBD for work simply with a statement necklace. Ahhh the statement necklace should be every BusiChic's best friend. Feeling lazy? Slip it on for immediate bling that makes your ensemble appropriate for work and play.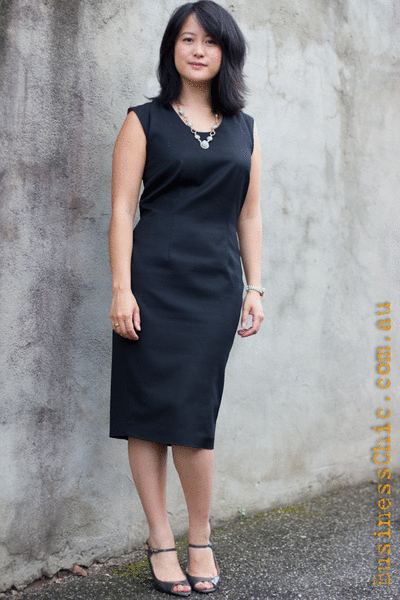 There are lots of options these days when it comes to the style of a statement necklace. I have a few little rules for choosing a statement necklace, they are:
1. Look for good value. Holly Golightly and Coco Chanel were advocates of costume jewellery, I am also.
2. Exercise good taste. all statement necklaces were made the same. If your necklace has enamel or stones, check that they don't look too plastic-y or tacky. You want people to say, "wow, Diva!?" not "yeah, I thought it was Diva…"
3. Do buy the best you can afford. There's nothing quite like growing one's base of statement jewellery. Investing in quality pieces means a greater chance of having beautiful pieces that you can enjoy over the years.
4. Keep all other accessories to a minimum. Do as Chanel advised and remove one accessory before you leave the house and avoid looking like an overladen Christmas tree in the office 😉
Here's a closer look at three statement necklaces I've worn with my LBD recently.
When antique shopping, I like to keep an eye out for jewellery. Particularly for something unusual but beautifully made as these days they really don't quite make them how they used to! I picked up this 1950s scarab necklace at the Camberwell Markets + a bracelet which I've attached to the necklace. See the original 1950s necklace was too short for my liking, attaching the bracelet elongates it and gives it a new look too.
Do you have a whole bunch of fabulous brooches that you don't always feel like simply pinning to a cardigan? I like to affix mine to a necklace to create something new. Lots of fun and a look that got me lots of compliments when I wore this to the Hanger Nation launch at The Olsen recently.
Pearls, I love 'em. I haven't quite gotten around to photographing how I like to wear simple single strands of pearls but here's a super-blinged up look. I picked up this hand-strung bib from a gorgeous little boutique near the corner of Toorak Road and Chapel Street, must look up the name as it's a source of treasures (like the brooch featured above). This bib necklace is OTT so I wear it later in the week when I have a swanky event to head out to after work, like the Couturing launch at the GPO.
Want to see a modern flapper-inspired necklace, see how I styled Bento designer Samantha Hardman in the LBD with Have You Met Miss Jones Jewellery.
For another look using tribal jewellery from Zoo's Victoria Beads for Wildlife program, click here!
See more of my styling of a LBD for here < also includes LBDs being worn by other BusiChics