New to Business Chic? On top of my regular streetstyle photos of what stylish folks are wearing to work, I've set myself a personal style challenge called the Little Black Dress (LBD) Project. In this series I'm wearing a LBD to work once a week for the whole year to share 52 different ways of styling this staple for the office. In Week 23 of LBD Project, I took my week 22 outfit to Che eyewear to see how changing one's style of glasses changes a look.
Regular BusiChics might recall this post where I photographed a stylish PR professional wearing vintage cat-eye frames at the launch of Che eyewear. What sets this Smith street boutique apart from the usual high-shine-all-white-fit-out optical shop is that it retails a mix of new and vintage eyewear within a charmingly arranged solid-brick-walled space. Here are some detail snaps from the store on the day that I popped in:
Now on to the frames. As someone with less than 20-20 vision, I wear glasses myself and am always impressed when I come across someone in a smart-looking pair that adds sharpness to their look. Trying to find the right pair of glass is tricky business which is why it's important to spend the time trying on as many as possible to find the style that works for you. Here are a bunch of vintage frames that I had fun trying on with the assistance of Rose who helped me with my request for "something quirky but still professional."

Half-rimmed cat-eye frames

Cat-eye frames in lipstick red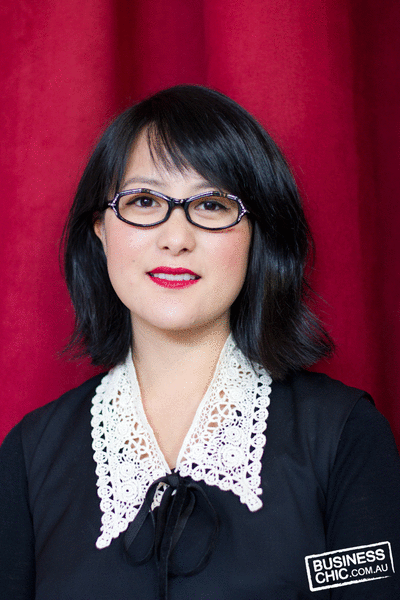 1950s frames with diamente detail

Tortoise-shell owl-eye-shaped frames
What do you think of the styles that I tried on? Do you wear glasses to work? If so, do you choose a style that say something about your personality?
I started thinking about some do's and don'ts for glasses style at work and here are some of my thoughts:
Like with clothing, I think do make the time to find a pair that fit you properly.
Do think about whether you can wear them for both work and play or whether you need different pairs for each.
Do update your glasses from time-to-time. While more often than not it's the case that I see great outfits being held back by rather daggy sunglasses; the same can happen with glasses.
Do maintain your glasses. Make sure the handles are secure (no screws loose!) and the lenses are clear. Oily and finger-printed lenses not only make it harder for you to see but look grubby and unprofessional.
Do look to your childhood heroes for inspiration, within reason. Clark Kent/Roy-Orbisson frames are pretty commonplace for architects, graphic designers and creatively-minded business folk. However, I'm increasingly seeing hipsters embellish their workwear with oversized frames à la Urkel – in the event that your workplace is more conservative than you are, please refer point 2
Are there any other things that you think should be considered when finding glasses to wear to work? I'd love to hear from you via the comments! In case you are wondering: in this new blog layout, comments can be left by clicking on the title of this blogpost and scrolling to the end to "leave a reply". Go on! 😉
I hope that you have enjoyed this instalment of the Business Chic LBD Project. For more ideas on how to style a Little Black Dress for work, click here.