In Week 25 of the LBD Project, I ditch my umbrella and style up my Little Black Dress (LBD) for the work commute with a Rayncape!
Dearest BusiChics, at the risk of bragging; I have some friends who get up to some rather clever things. One such friend noticed that in this wet weather, there are many of us who get extremely frustrated lugging around umbrellas to and from meetings around town; only to have the devices mal-function right when we need them! So she started up Rayncapewhich I provided a preview of in an earlier post:
As an avid wearer of capes to work, I've often scrunched up my nose when realising that Melbourne's clouds are raining on my cape. I then get doubly annoyed because it is often also the moment that I realise that the umbrella I've been lugging around everywhere has actually been left behind in some cafe/meeting room/workspace/home!
The rayncape is a water-resistant cape that comes in its own little pouch so you can always have it in your bag to pull out at the right moment of need!
Here's an example of the Rayncape in action: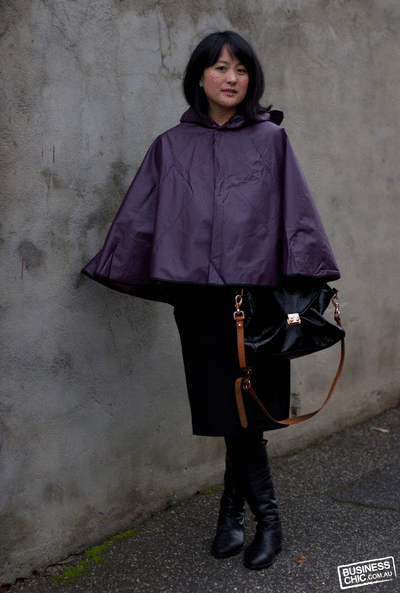 Can I say that it also comes in the cutest packaging – I'm partial to fashion illustrations so the box my Rayncape arrived in is still pretty-ing up my desk! Too easy! Next I really need to get some gumboots to complete my wet-weather work ensemble! How do you make your workwear water-resistant?
| Rayncape |
PS: This is not a sponsored post!