Long-time readers of BusiChic may recall Veselin whom I photographed and featured in the post, "The Man Who Gave Me Flowers". If you don't know the story; I do suggest that you catch up on that post for the story on how we met and how those photographs came to be!
Veselin is 91 years of age and I have been feeling very guilty that I had not returned to visit him earlier as I'd promised. So the other day, I took around a bunch of flowers and popped in to say hello. The gentleman himself was just leaving his house for his daily walk so naturally I had to photograph him again!
I hope that you enjoy these images of a beautiful gent who has such a wonderful attitude to life. A sociable fellow, rather than sitting at home feeling sorry for himself, Veselin gets dressed up, fills his red bag full of flowers from his garden and gifts them to the shop people that he goes and visits. I find his initiative, charm and chutzpah so heart-warming and inspiring. Enjoy!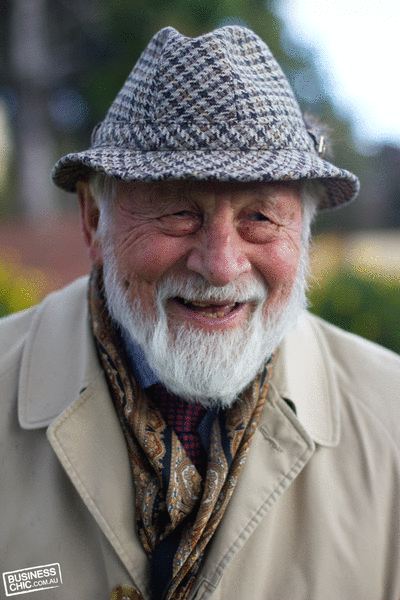 Funnily enough this 91 year old's ensemble has lots of timeless business chic pieces. From the Rodex trench to his print-on-print shirt, tie and scarf layering – functional things that keep him warm but look so stylish too. And the hat. BusiChics know how I'm a sucker for hats and Veselin wears his with the perfect amount of charm; don't you think!?