This week I've been looking at the hats one might wish to top their LBD with for a cosier commute to work. Each day I've shared inspiration as worked by some of my favourite hatted-ladies. Today I share with you the hat that I feel incorporates a few of my favourite elements from the various styles I've looked at for the final in this LBD Project look at hats!I've tried on four different styles of hats this week in order to replicate the style of influencers as follows:
Did you have a favourite style? For the final installment of this hatted series within the LBD Project, I've decided to go for a hat that incorporated my favourite elements of the above styles to find "my style." I liked the cloche style a la #4 Carrie Bradshaw but also enjoyed the playful floral element as per #1 Kate Middleton and #2 Blossom. So it is without further ado that I share my favourite hat that I think is perfect for the chilly weather that doesn't appear to want to let up!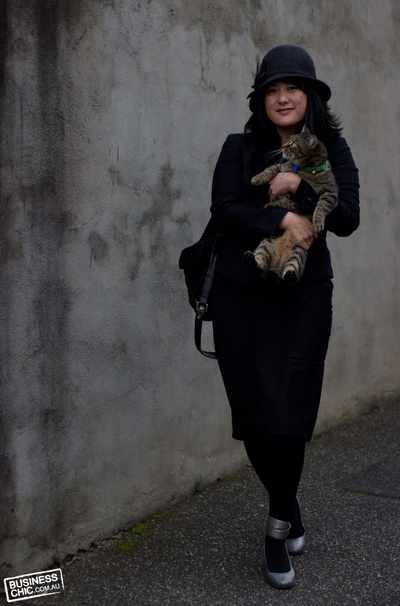 I've borrowed the neighbourhood cat for today's BusiChic shot where I'm wearing a Country Road wool blazer and faux-fur Alannah Hill scarf over my Bento LBD and accessorised with Camper "Twins",  and felt cloche hat with flowers from Scally & Trombone. Many thanks to Scally & Trombone for loan of the hats featured this week. 
Scally & Trombone is a delightfully-visually-displayed shop on Brunswick Street that I've long enjoyed poking my head into. Full of colourful accessories and helpful shop staff, I recommend dropping by in the event that you need help to find that special something to brighten up your workwear or as a present for someone else!
BusiChics can find Scally & Trombone at 331 Brunswick Street in Fitzroy, Melbourne! What did you think of the hat styles that I shared this week? Do you have any favourite hat styles that you would like to see on your way to work?
For more stylings of a Little Black Dress for work;  click here!
For more of the BusiChic: Facebook | Twitter | Instagram | Pinterest | YouTube