In Week 30 of the Little Black Dress (LBD) Project I get all MacGyver-esque with the humble safety pin to share an easy way of getting more bang out of one's accessories. An easy trick that will add chic to one's LBD or any work outfit that includes a knit top, really. Read ahead to find out how!
Dearest BusiChic,
I am one of those people who loves buying new things. However there are times when a gal should be thrifty and resourceful so that she can save for more fiscally-responsible things in life. Which is why in this week of the LBD project, I'm pretty excited to feature what I think is a nifty little way of squeezing a little more value out of one's work wardrobe.
Hey, were you also a fan of MacGyver? You know – that resourceful mullet-haired tv hero of the 90s who always managed to get himself out of tight situations by coming up with ingenius escape solutions using random things in his pocket like tooth floss or the tabs from empty aluminium drinking cans? I was so in awe of this peace-loving secret agent growing up that I was genuinely excited when Dad got me a Swiss Army Knife just like Macgyver's one Christmas. So it is without further ado that I present to you what I fondly refer to as a MacGyver-esque thingamy-bob to get more bang out of one's wardrobe; the humble safety pin!
I'm wearing a Little Black Dress by Melbourne's own Bento; earrings by Emily Green; long-sleeve merino wool top from Portmans; CLiO opaque stockings and shoes from ziera. The silk polka dot scarf is from Ojay and safety pins from my local $2 shop; a packet of 180 cost me $2.50 !
To recreate this look, follow these instructions:
Get dressed in your classic wintry LBD layers of longsleeve merino wool top, LBD, stockings and black shoes. The all black look will help with the illusion of making you look taller/slimmer  😉
Pick out a favourite scarf to add some interest to your all black ensemble. I like to stay safe with a polka-dot scarf like this one I picked up at Ojay and play up the colour via Emily Green earrings.
Tie the scarf around your neck into a bow. Position the bow to your liking (I like mine a little off-centre) then secure with safety pins to your longsleeve knit. Take care to pin from underneath so that the pins are not visible from the outside!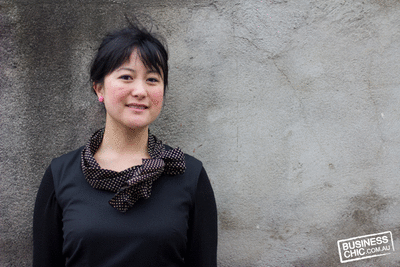 I thought that I'd make a gif to show how difficult it was to photograph the bow lying flat on such a windy day! I think that the gif still shows how the scarf changes the neckline of this Little Black Dress ensemble – what do you think?
If you'd like to reminisce about MacGyver, you might also enjoy reading the Wikipedia entry here.
Have a Little Black Dress of your own and want to see more ways that you can style your LBD for work?  Click here!
For more of the BusiChic: Facebook | Twitter | Instagram | Pinterest | YouTube