In Week 31 of the Little Black Dress (LBD) Project I turn to the timeliness of lace to take this simple LBD from office to after-work-chic!
Something occurred to me recently, that this project of mine that seeks to show the versatility of a Little Black Dress in one's work wardrobe was initially more of a style project than a fashion one. Simply put, fashion changes; style does not.
Where I've felt appropriate, I have shared "fashion" pieces from designers; I like to show what's new that can be incorporated into one's work wardrobe. However I believe that the pieces I've selected update what I already have and are relatively timeless themselves (which raises the question whether you would like to see more trend-driven pieces!?). Also for the most part, I've refashioned my LBD with pieces already in my own wardrobe.
There's another quote I've been thinking a lot about recently:

It means "to eat is a need, enjoyment is an art." It used to be pasted up in a tiny vegetarian kebab shop up the road from my apartment in Berlin; a place I spent a great deal of time actually staring at that quote while munching on highly enjoyable haloumi kebabs as the sun warmed my back. Anyhow it's a principle that I also apply to my consumption of fashion. I try not to merely consume fashion, I want to enjoy it. My credit card statements and my wardrobe are much tidier that way. So it might not seem like much but here's a little something something from my wardrobe that I like to use to add a dressy ladylike element to my workwear to create a Polished look that is perhaps a little dressy for the corporate office but translates quite well to after-five events:
I'm wearing Bento's Ruby Dress with a vintage lace bolero that I picked up from the Lost & Found Market, a very old but loved pair of Mimco earrings that I turn to for pops of colour in my workwear and a clutch that a friendgifted me as she no longer had any use for it; don't you love it when that happens!?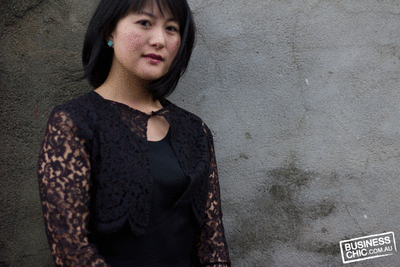 What approach do you like to take with your workwear? I'm interested to see whether you would actually like to see more fashion trend reporting here on BusinessChic!
Have a Little Black Dress of your own and want to see more ways that you can style your LBD for work?  Click here!
If you enjoyed this post, please like and share!  Facebook | Twitter | Instagram | Pinterest | YouTube