In week 32 of the Little Black Dress (LBD) project, my work style is inspired by the prettiness of the new season and take inspiration from the pastels, lace and diamente headbands featured in the Louis Vuitton 2012 Spring Ready-to-Wear collection. See how I use stationery from Cristina Re and items already in my wardrobe to style my Bento LBD for work, all spring-like!
Greetings BusiChic,
Welcome to the first business chic post of Spring! As you read this post, I am on two weeks of annual leave to make the most of this season, starting by covering the Melbourne Spring Fashion Week (MSFW) shows where I'll be reporting on the pieces which which a BusiChic lady or gent might like to update their work wardrobe!
Now before I take a look-see at what our Australian designers are upto, I thought that this week I'd share how I styled my little black dress all spring-like. First-off, some images from the Louis Vuitton Spring 2012 Ready-To-Wear collection from Style.com
Oooh so pretty! The key elements in these looks that inspired me:
Porcelain prettiness – my skin is pretty pale after Melbourne's long winter so the pretty and glowy make-up in these looks appeals to me; particularly their healthy lick of liquid eyeliner!
Polished hair with diamentes – I love a good polished look and the lady-like looks at Louis Vuitton are sublime. While some looks used diamente tiaras, I suggest sticking to a simple strand of sparkling stones for the office.
Lace – the oversized eyelet collars make this collection, however I believe that a similar look can be achieved with the lace collar that I wore in Week 22 of the LBD Project.
Pastels – Spring is a great time to bring out your light colours. The LV collection had soft corals and canary yellows. I've interpreted with  cotton candy pink (lipstick, blush and cardigan), mint greens (earrings) and lilacs (pencil eyeliner by Rimmel).
Scroll below to see my final look: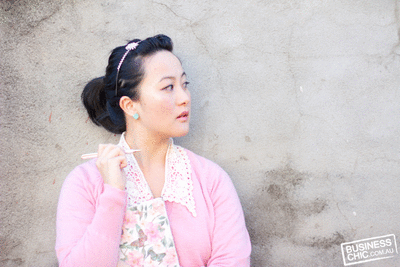 I'm wearing a Little Black Dress by Bento.
My headband was from a chainstore in Kuala Lumpur; cardigan from an op shop in Rutherglen; belt is by American Retro and shoes are Bally from a vintage store in Adelaide.
Stationery by the uber-girly Cristina Re completes my spring-time look.
Another way that you can tell that this photo was taken in the Spring is by the bruises my legs; I've been knocking them about when riding my bike through to make the most of this beautiful weather!
What do you think of my LBD styling this week? Too pink? Too precious? What would you change? Do you tweak your workwear for the new season and will you be attending MSFW? Please say hi if you are there too!

Have a Little Black Dress of your own and want to see more ways that you can style your LBD for work?  Click here!
If you enjoyed this post, please like and share!  Facebook | Twitter | Instagram | Pinterest | YouTube