Greetings BusiChic,
Have no fear – it is Saturday today- the weekend!
Now that I'm posting workwear streetstyle looks three times a week, I hope that I'll have more time to start sharing ways that I chillax on the weekend. I hope that if you are like me and enjoy bringing style and good things to the workplace, that you might also relate to my passion for relaxing on the weekend. Sound good?
Now if you're like my friends and me – folks who live in teeny houses and apartments that have very little space for entertaining – then you might also be interested to hear that CERES has opened a community kitchen that anyone can hire to throw dinner parties for larger groups or simply, get their Masterchef on! Many thanks to blogger/writer/friend and one of the most amazingly creative BusiChics I know, Leeyong Soo of Style Wilderness for organising our crew for a fun evening of cooking and making new friends!
Masterchef jokes aside – I got quite a surprise when I realised that someone who I'd assumed was another one of Leeyong's friends that I'd seen around the traps – was an actual Masterchef! Can you spot Alice Zaslavasky?
As Leeyong explains in her blogpost:
 Thanks to the power of Twitter and a shared love of food, my workmate Roslyn and Alice managed to find each other, and when CERES invited us to try out their kitchen (and kindly threw in some delicious vegies too), Alice jumped at Ros' offer for her to be the head chef for the evening.
Alice set us up to deliver a Mexican feast, here are our food prep shots from the evening: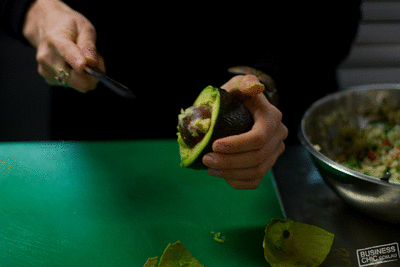 Cooking with friends: Simply by observing, I finally learnt how to properly remove the pip out of an avocado!
Leeyong on the jicama:
Alice conjured up a Mexican feast including tacos with tempura flathead and chipotle mayo and an amazing jicama salad with lime and jalapeno. I'd never had jicama before (Ros brought some along from her garden!) but will definitely be using it again as it's very refreshing and hard to get wrong, even for a non-cook like myself, as all you have to do is chop it up and use it with other ingredients in a salad.
And without further ado, here are shots of our completed Mexican fiesta!: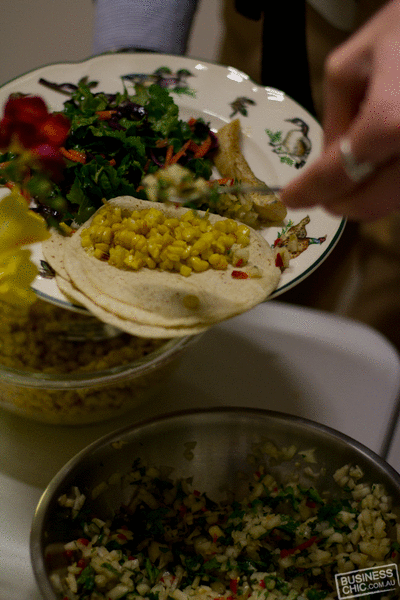 The moreish jicama salad!
As you can see, we had a great time using the kitchen and plan to get our crew in to do another one soon – just for funs. The kitchen is fully kitted out with pots, pans, dinner setting and cutlery – just bring your own tupperware containers to take away the tasty food you make! For more details on hiring CERES Community Kitchen for your funtimes, click here.