So The Sartorialist, Scott Schumann, has a new book out. Or should I say, "books"?
I remember coming across The Sartorialist for the first time. Working back late in my office cubicle, I can still feel the excitement of scrolling through his images of what-were-to-me, unknown people looking fabulous.  The Sartorialist was an influence which made me realise that I could show some personality in the workplace through the way I dressed. That the work wardrobe did not have to be all conservative suits; we'd  show some flair through well-cut staples embellished with bold accessories or thirst-quenching flash of colour!  I used to save photos of those looks that I thought were work-appropriate for my own reference.
My brother is the one who inspired me to start a blog of my own.  When it finally occurred to me to start a streetstyle blog to showcase the style of real people who need to think of what to wear to work about five-days-a-week, I'll admit that re-blogging content from The Sartorialist crossed my mind. Instead I decided that I wanted to be an original content creator. So for better and for worse I borrowed a camera or two from different friends and tried to recall what I'd learnt 10 years earlier in highschool photography.
They'd say that the rest is history. However Business Chic has only been in play for just over two-and-a-half-years. It's not new but we still have a lot more growing to do as we try to find our feet in the ever-shifting space of media and self-publishing. I'm biting the bullet on a few things to push this creative outlet into new directions and I hope that you'll enjoy the journey.
So without further ado, a look at today's BusiChic featuree. I know that The Sartorialist in a sense, gave me permission to individually show more flair at work. I feel that men in general have been similarly empowered. Or is it that I just didn't notice gents like Jesse before?
I don' t think that Jesse has provided me with the details of his ensemble but I enjoy its balance of Corporate necessity with the sort of panache exercised by those featured on The Sartorialist.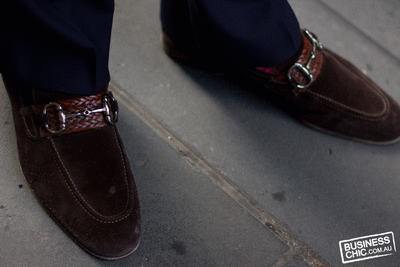 So, suave. Heck even Jesse's stationery is stylish! Lots of nice details in this work ensemble to take in; so make sure you have a good look!
I'd like to end with a personal thank you to Scott Schuman. There have been countless times when I've chased after some busy-looking person only to then observe the softening of their faces as they listen to my request to photograph them… word-for-word their response often is, "oh – like The Sartorialist?" (Australians tend more to speak in questions, rather than statements)
I've a long way to go but I hope that my approach and commitment to creating original content is in some way a tribute to your work. Thank you.